New Patients at Bannon Clinic of Chiropractic, P.A.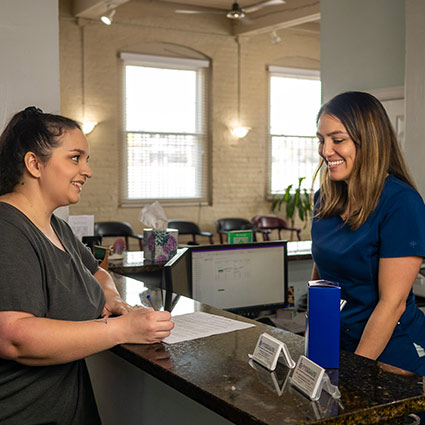 Welcome to Bannon Clinic of Chiropractic, P.A.! We love our bright, open office and hope you feel the same. We started out in the historic district of Gastonia, moving twice over the years before settling in our current location. We're in the center of town in an old mill that was remodeled and restored to provide us with 4200 square feet to work with our patients toward improving their health.
In our first-floor office, the 100-year-old hardwood floors have been restored, and the treatment rooms boast 15-foot ceilings. You've never been to an office that looks like ours and makes you feel comfortable from the moment you arrive!
Let's Get Started
Our office operates on electronic health records. When you walk in, our front desk team will greet you and fill out your forms on the computer with you. Then you'll be brought back to a room to have your vitals taken before seeing your chiropractor to start the examination. X-rays may be taken more often in the case of trauma.
A passive therapy is started to give you relief, such as an ice or hot pack application, electrical muscle stimulation, or ultrasound. Your findings will be reviewed. You'll receive your first adjustment on the first visit, when appropriate. We find that workers' compensation or personal injury cases may require extra time to review, and we usually won't adjust these patients right away. We will have you return for a report of findings and a treatment on a second visit.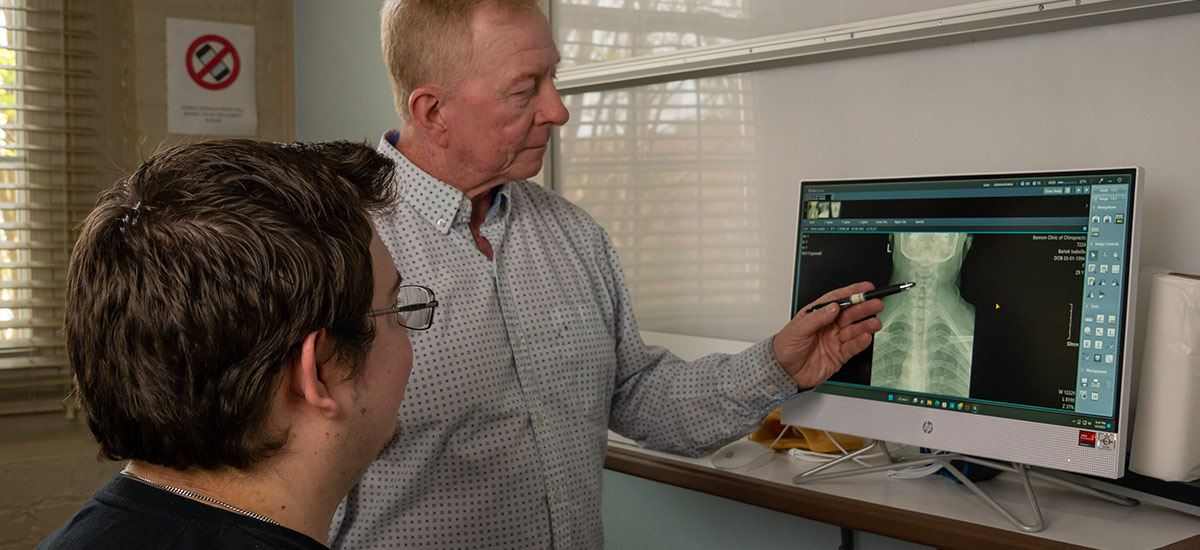 Your Second Visit
If we didn't go over your findings and give you an adjustment on your first visit, we'll do so at your next appointment. We'll go over an appropriate plan of treatment, making sure you're comfortable with it, before proceeding. Any necessary therapies will be given, and you'll receive an adjustment.
Enjoying Your Full Function
Some of our patients have asked us, ''Do I have to continue seeing you forever once I start?" This misconception is common. Most people feel the difference between being fully functional with the help of regular visits therefore choose to continue their care long term. A body in its proper form is capable of so much more than a body that's limited due to restrictions in the spine!
Teaching You About Health
Our chiropractors like to chat with you at each of your visits to help you understand your condition and how we'll work to improve it. Models and different educational tools will be used to demonstrate what we mean, so you know exactly why we recommend the treatment you're receiving. If you want more information, we'll be happy to share handouts and other sources with you.
Exercises are a great way to support your chiropractic care. We'll show you in our dedicated rehabilitation room what you can do at home to help keep your health on track.
Get Started Today
We accept and work with most insurance plans. We take Medicare, Medicaid, auto accident liens, and workers' compensation. Contact us today to find out if chiropractic might be exactly what you need to start feeling better!
CONTACT US

New Patients at Bannon Clinic of Chiropractic, P.A. | (704) 864-7774